Classmates of Olympia High School's Class of 1974 that have past…
You will never be forgotten.
In our hearts, you will forever remain.
Always look over us and shine on us from heaven.
You are dearly missed,
but every one of us knows that you will forever be present in our hearts and our memories.
In Order of latest Passing:
August 10, 1956 – July 21, 2023
Richard Eugene Tannatt, age 66, of Lacey, Washington passed away on Friday, July 21, 2023.
Betsy Lynch De Lay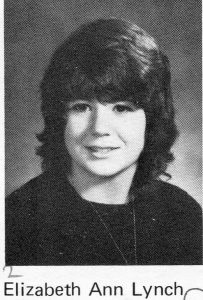 Obituary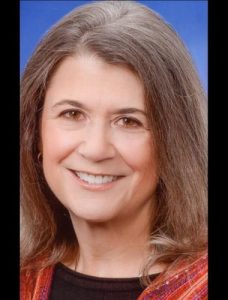 November 1, 1956 – July 13, 2023

Betsy De Lay passed away peacefully on July 13, 2023, in her home in Olympia, Washington, following a one-year-long journey with Amyotrophic Lateral Sclerosis (ALS). Betsy was born in Olympia on November 1, 1956, to Tom and Norma Lynch. The youngest of four children, baby Betsy was adored (and mostly spoiled!) by her older sisters, Katie Maxey and Laurie Lynch, and loved (and mostly tolerated!) by her brother, Tom Lynch.
Betsy's childhood days were filled with stories of growing up on Olympia's Westside and summers at the family Bay House on Cooper Point. She attended Garfield Elementary, Jefferson Junior High, and graduated from Olympia High School in 1974. Lifelong friendships were made during her time as a Camp Fire Girl, musician (flautist and choral), and thespian. Her vivid imagination and love of a good story took her to Washington State University, where she earned a degree in Theater Arts.
While at WSU, Betsy married Chuck Driscoll. She and Chuck had two wonderful children together, Sean Driscoll and Maureen Driscoll Black. Guiding, supporting, and inspiring the growth and development of Sean and Mo was Betsy's proudest accomplishment. Spending time with Sean and his husband, James DeHart, Mo and her husband, Trail Black, and grandsons, Callum and Rainier were among her happiest memories.
Betsy married Michael De Lay in 1994, doubling the size of her family with the addition of Michael's sons, Patrik (wife, Jennifer) and Christopher (wife, Irene). In 2010, she became a "mom" for the fifth time when they welcomed Wei Du, an exchange student from Shanghai into their family. Betsy believed that families are formed in many different ways and opened heart and home to all.
The only title she cherished more than "Mom" was "Grammy." She was a proud grandmother to Callum and Rainier Black; Alex, Zuzu and Enzo De Lay; Carter and Ivy Liu De Lay; and Victoria Du Fenner.
Following successful careers in hotel management and the travel industry, Betsy retired from Eli Lilly Pharmaceuticals in 2021. She was very proud of her work with medical professionals on behalf of the patients they served, and valued her relationship with her Lilly family.
Betsy and Michael enjoyed traveling and spending time at their beach house in Ocean Shores. She and Michael dedicated countless hours to feeding the underserved and homeless populations in Seattle and Olympia. During their marriage, it is estimated that they served over 2,500 meals. They enjoyed their volunteer work with Habitat for Humanity and international homebuilding missions through their church.
However, nothing made Besty happier than spending time with family. She was blessed in abundance with loving family and friends. She leaves behind sisters-in-law, Vicki Lynch Kimball; as well as multiple other in-laws, nieces, nephews, and cousins; friends, Ruth Hallett, Jane Garity, Michael Nerwinski, Fr. Jim Lee, and many other cherished friends (far too many to mention). She was predeceased by parents, Tom and Norma Lynch; brother, Tom Lynch; brother-in-law, Barrie Maxey; grandparents; aunts and uncles. She was comforted by the belief that she would be eternally reunited with loved ones who have gone before her.
Betsy's message to all is: We may not be able to determine how much time we have in the life we are given, but we can choose what we do with it. Be grateful for the blessings you are given, give and receive love in abundance, be kind, choose to be happy.
A Catholic Mass was held Monday, July 31, 2023, 12:00 p.m. at St. Michael Catholic Church, 1208 11 Ave. SE, Olympia, WA 98501.
In lieu of flowers, please make donations to Mary Bridge Children's Hospital, the Cystic Fibrosis Foundation, or the ALS Association.
To send flowers to the family or plant a tree in memory of Elizabeth De Lay, please visit Tribute Store
May 30, 1956 – June 4th, 2023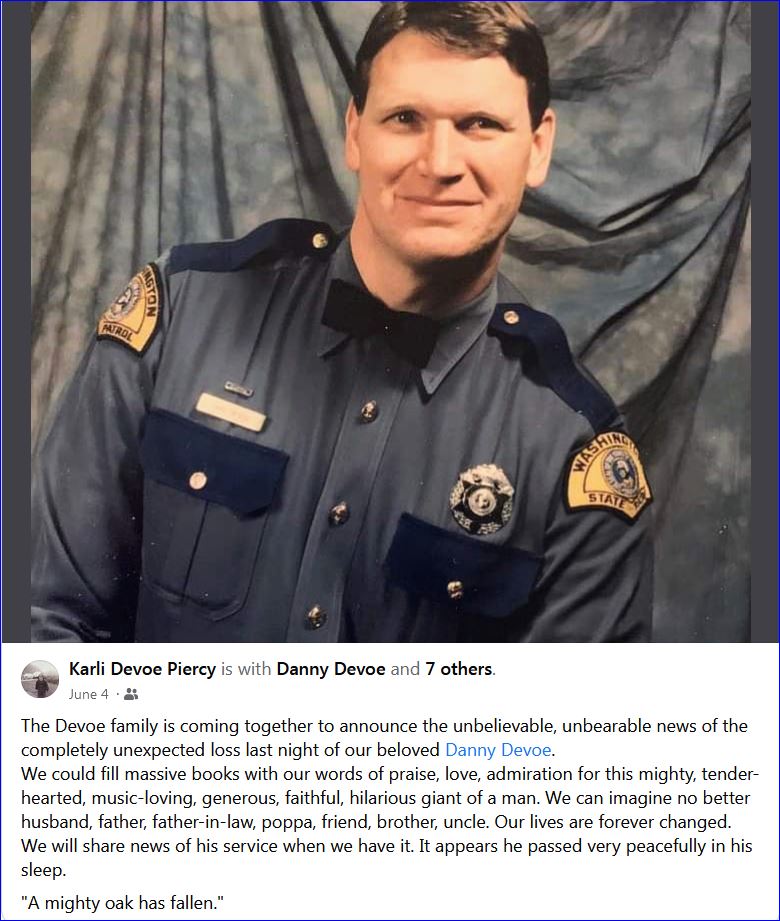 John Olson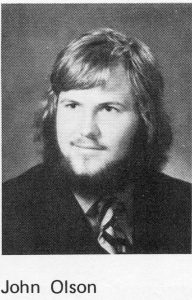 May 23, 1956 – October 28, 2020
Geoffrey M Layton, 64 Shelton, Washington
  His brother Gavin posted on FB the following tribute:
"With a broken heart I share the passing of my big brother, Geoff. Life had become more burden than joy for Geoff, and his feelings had always been intense. He could light up a room with the wit and charm he loved to share, but ultimately succumbed to the sadness that pursued him.
I miss him painfully here, two weeks after his passing, and recall a day when he, about 14 or 15 years old, saved me from drowning in a swimming pool. There was nobody else around. Without Geoff I would be long gone now. I told him that story not long ago, seared in my memory, and he didn't remember it. He didn't think about himself much. He thought about the world and others, and felt their feelings. He was vibrant, active, heroic by nature, and all too humble at his core. With those qualities came impatience. He finally lost patience with himself and our too trifling world.
I spent more time with him in the last year than I ever had. He was seven years older than I and we had different interests. He was creative and a talented mechanic. After I bought an old diesel truck last year, he willingly spent hours on the phone with me helping me suss out fuel and electrical problems — his interest often outlasting my energy.
Not often enough I went down to see him near Shelton. He was lonely and too grateful for the little company I gave him. He lived in an RV trailer among some tall trees and, with very little help from me, built a roof over the trailer, making a shake froe out of an automotive leaf spring and using that to cut shakes out of a cedar tree on his property. He spent hours, days, weeks making things by hand that he could have bought for $50. That roof he built over his trailer was a work of art and fierce determination, strapped to one tree with a tire and pinned to others using parts of a salvaged boat railing and beams and rafters most of us would call trees and branches…. It and most of his possessions burned up in a fire last spring, including a collection of guitars that gave him more comfort than anything else in his life. He played guitar all his life and regularly quoted Pete Townshend to me -usually without me knowing it. He had a great ear and an eclectic love of music, and when he said The Beatles were the greatest band ever it was not a matter for discussion, but a statement of incontrovertible fact.
Bra, I love you and miss you."
Michael Manning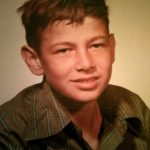 Len Hamilton


Passed February 1st, 2018

Kelly Elizabeth (Shay) Walker


Passed away on October 28th, 2017

Passed September 28, 2017.
Janet V (Conine) Fairbanks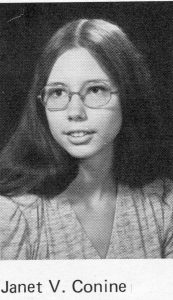 Passed September 5th, 2017
In Anchorage, Alaska
Passed August 10th, 2017
Cancer
Rick Ross Newton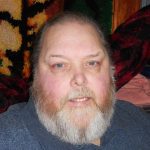 Passed June 28th, 2017
Rick was found in his chair at his home, a couple days of no contact. June 28, 2017

Made so many rides in his Nash, he was a special, nice person! … Art
Passed November 24th, 2016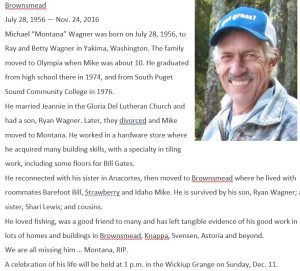 Dyan Young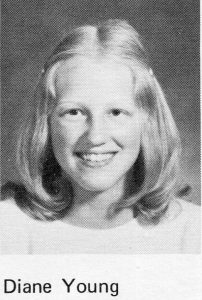 Passed away ??
Dyan, one of my most fondest friends! Miss You <3 Art

Dawn Marie (Ward) Johnson
Stanley Boyson
Passed April 15th, 2016
In Seattle after stroke.

Claudette N 'Peedy' (Mahanes) Core

Passed January 16th, 2016

Anna Lisa (Wetzel) Knight


Passed January 14th, 2016

Ardis Clinton III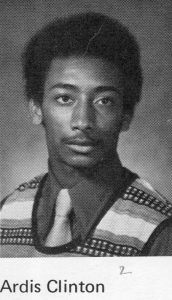 Oct 3, 1955 – Sep 15, 2014
Ardis Clinton III, age 58, passed away at home in Seattle on September 15, 2014. He truly enjoyed life and loved his family and friends. He was a manager at Art Brass Plating and a member of the W. Seattle YMCA. He is survived by his wife Debra, sister in law Rachelle, mother Shirley Clinton,… [ Legacy.com ] [ Facebook Comments ]
Shirley Marie (Mackenzie) Brock

Passed in 2013
Complications of MS.

Randall Craig Salisbury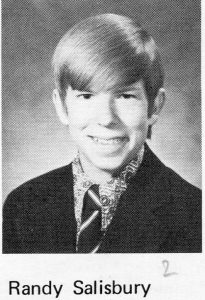 Passed away on May 2, 2013 from a Stage 4 Glioblastoma brain tumor…similar to the one that took Edward Kennedy and John McCain. He is missed! – Jayne (Austin) Salisbury
He is missed by all, his infectious smile and wit will not be forgotten… – Art
Beth Ann Harrison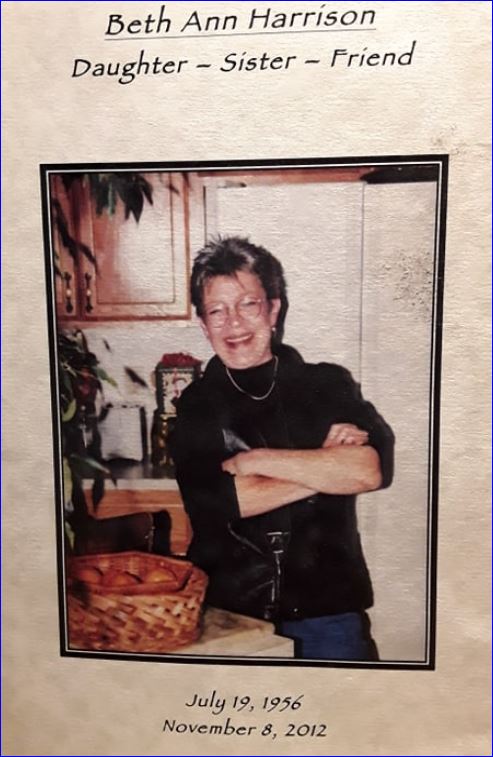 Passed November 8th, 2012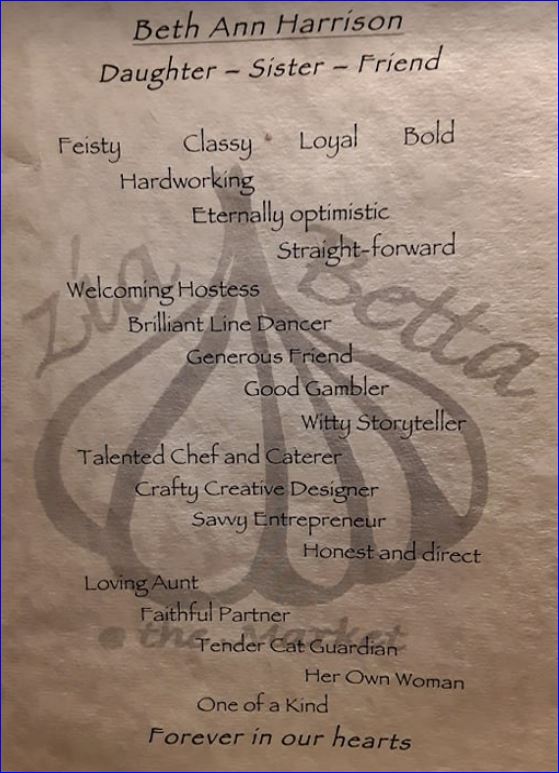 Joy Marie (Travis) Wedeman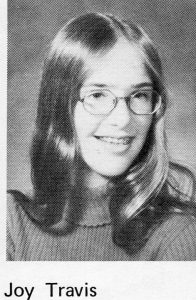 Passed away November 8th, 2012
Cancer

Debra Ann (Cutlip) Yohan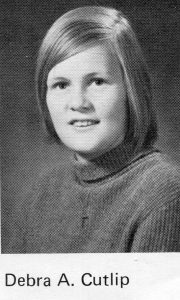 Passed September 23rd, 2012
In California

David J Chapin

Passed September 22nd, 2012

Donald Roy Ronneberg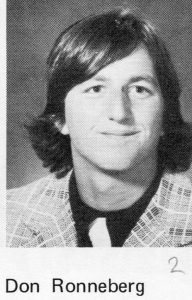 Passed June 27th, 2012
Cancer

Connie Kay Thayer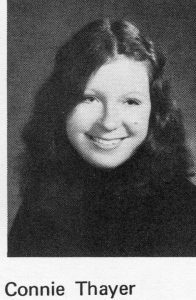 Passed away November 12th, 2011
Steven Merle Junk

Steve left us peacefully in Lacey, Washington, on April 30, 2011, at the age of 55. He was born on April 4, 1956, in Anchorage, Alaska, to Willard Frank Junk and Marijane (Junk) Ridley. After graduating from Olympia High School in 1974, he attended college for one year at Bremerton Community College, studying journalism.
Steve Junk worked in construction for many years, including Marks Drywall for about 15 years. He was also the light man for the band Porky and the Beans! Steve married twice and has two children, Lindsey Ruth and John Steven. Steve loved to camp and fish, especially on the Deschutes River at his sister's place. Steve is survived by his children, Lindsey and John; parents, Marijane and William Ridley
Steve was a very comical character that everyone loved, so much so that, even when he was very ill, he was still joking, laughing and sporting that smile that we all know. Some say that he missed his calling and maybe should have been in the entertainment industry. We will miss him so very much and will always smile when we think of him and remember the good times.
Patrick L Buker
Passed March 13th, 2011
Pat Buker, age 54, Olympia, died at home Sunday, March 13, 2011, after suffering what was determined to be a massive heart attack. Healthy and physically active, his death has shocked us all. He was born July 17, 1956, in Shelby, MT, to Newt and Stick Buker. He attended LP Brown Elementary, Jefferson Middle School and Olympia High School, graduating from Medical Lake High School in 1974. He graduated from Western Washington University in 1978, and earned an MBA from City University. [ more to come ]

Passed away on May 10th, 2010
Deena Marie (Dieckmeier) Tveden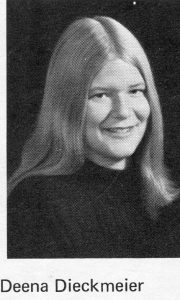 Richard Allen Stricklett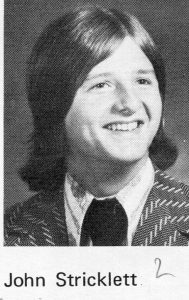 Passed away March 7th, 2010
Passed January 15th, 2010

James Dale White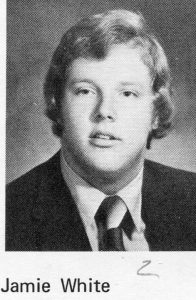 Passed away August 19th, 2009
Harry Lester Foust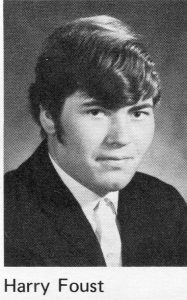 Geneva C (Kirry) Graham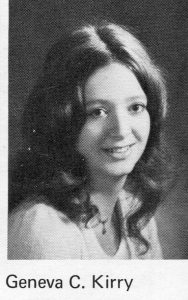 Passed February 25th, 2009
A long battle with Leukemia and Graves Disease.


Donald Edward Williams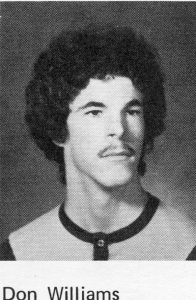 Passed away June 29th, 2008
Mark William Hartwell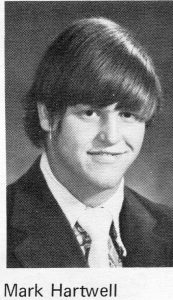 Gretchen Lillie (Davis) Chandler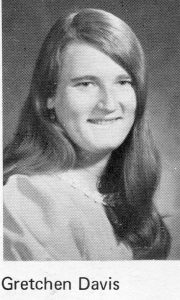 Passed February 3rd, 2007

Passed November 11th, 2006
Cancer


Passed April 29th, 2003
Especially the Boston Harbor class remembers Dewey Reed. He passed a few years ago.
Calvin Ivadore 'Jay' Cutlip Jr.
Passed September 26th, 2001

Dale Ray Puckett


Passed December 31st, 1999
Dale Puckett died apparently celebrating the new millennium in Portland Oregon.
Gregory Gordon Loop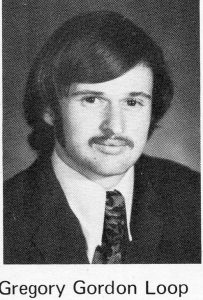 Passed November 16th, 1997

Norbert Paul Renaud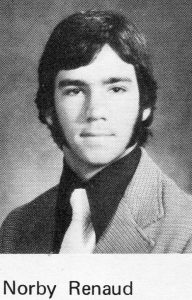 Passed August 7th, 1993 (Age 37)
Chris was born Aug. 2, 1956, in Seattle. The family moved to Olympia, Wash., in 1960. He graduated with honors from Olympia High School in 1974, and attended Colorado Mountain College in Leadville for two years. After transferring to Western Washington University in Bellingham, he received a bachelor of science degree with honors in environmental science in 1978. Mr. Bergerson came to Alaska in 1979 and worked in construction until forming Denali Woodworking with two partners. When the partnership folded in 1986, he took a position with Neeser Construction Inc. and was project administrator with the company at the time of his death. Mr. Bergerson was a member of St. Elizabeth Ann Seton Catholic Church. Active in sports all his life, he had played baseball since the age of 9 and, as an adult, played softball for several Anchorage teams. Mr. Bergerson was an excellent skier and enjoyed a game of golf immeasurably. His family said, "His family andmany friendships were the cornerstones of Chris' life, and he demonstrated that through his constant loyalty and devotion. Always quick to lend a helping hand, Chris was generous with his time and with himself. He put effort into any undertaking, whether it was school, work, sports or being a husband and father. Chris had a unique sense of humor that was evident even in the depth of his illness, as was the joy and hope he shared with his many visitors. Chris fought his illness the same way he lived his life with courage, energy and grace."
[ more ]

David James Allison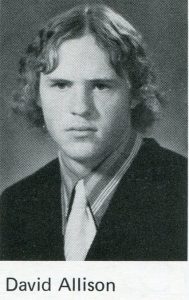 Thomas J. Montante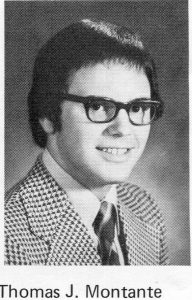 Renee Larae (Clocksin) Vega


Matthew Peter Rensel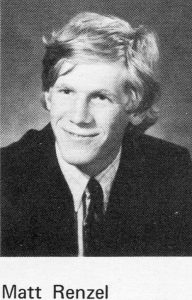 Passed December 1st, 1981

Mark Higgins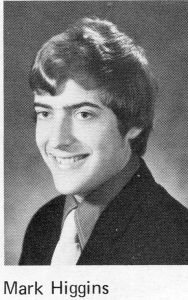 Passed away April 25th, 1980

Jeff Lampard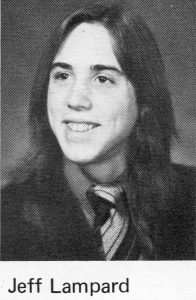 Passed December 28th, 1979


Carl Nelson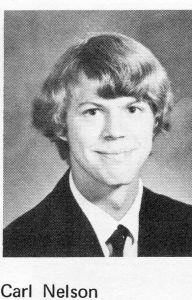 Bryan L Sayler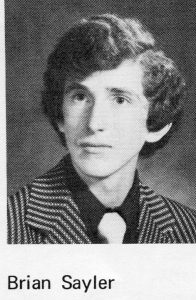 Passed away on October 19th, 1974
In California.

Please let us know of other Alumni that we may have missed their passing.
art@ruschetek.com